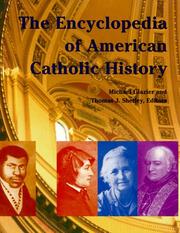 REF 282.73
The encyclopedia of American Catholic history
Collegeville, Minn. : Liturgical Press, c1997.
xi, 1567 p. : ill. ; 29 cm.
"Utilizing newly opened archival information, the authors of this scholarly resource illuminate the American Catholic experience through 1,200 signed articles and 300 illustrations. Examined are issues, movements. demographics, and history and wars in relation to American Catholics. Issues often neglected by the church are treated: the growing voice of American Catholic women and the church's lack of involvement in the issue of slavery. Since so much immigration history is reflected in American Catholic history, many ethnic groups have their own entries.
Available
Hardback Book
1 copy available at St. Luke the Evangelist
| | |
| --- | --- |
| ISBN: | |
| LC Call No: | BX1406.2 .E53 1997 |
| Dewey Class No: | 282/.73/03 21 |
| Author: | |
| Title: | The encyclopedia of American Catholic history / edited by Michael Glazier and Thomas J. Shelley. |
| Publisher: | Collegeville, Minn. : Liturgical Press, c1997. |
| Physical: | xi, 1567 p. : ill. ; 29 cm. |
| Notes: | "A Michael Glazier book.". |
| BibliogrphyNote: | Includes bibliographical references and index. |
| Summary: | "Utilizing newly opened archival information, the authors of this scholarly resource illuminate the American Catholic experience through 1,200 signed articles and 300 illustrations. Examined are issues, movements. demographics, and history and wars in relation to American Catholics. Issues often neglected by the church are treated: the growing voice of American Catholic women and the church's lack of involvement in the issue of slavery. Since so much immigration history is reflected in American Catholic history, many ethnic groups have their own entries. |
| Subject: | Catholic Church--United States--History--Encyclopedias. |
| Subject: | |
| Subject: | |
| AE:PersName: | |
| AE:PersName: | |
| Link: | |
| Field | Ind | Subfield | Data |
| --- | --- | --- | --- |
| 001 Control No | | | 4080 |
| 005 LastTransaction | | | 20161227150900.0 |
| 008 Data Elements | | | 970922s1997 mnua be 001 0 eng |
| 010 LCCN | | $a Record content licensor | 97041221 |
| 020 ISBN | | $a ISBN | 978-0-8146-5919-9 (alk. paper) |
| 035 System Ctrl No | | $9 | (DLC) 97041221 |
| 035 System Ctrl No | | $a System control number | 2599754 |
| 040 Cataloging Src | | $a Original cataloging agency | DLC |
| | | $c Transcribing agency | DLC |
| | | $d Modifying agency | DLC |
| 043 GAC | | $a Geographic area code | n-us--- |
| 050 LC Call No | 00 | $a Classification number | BX1406.2 |
| | | $b Item number | .E53 1997 |
| 082 Dewey Class No | 00 | $a Classification number | 282/.73/03 |
| | | $2 Edition number | 21 |
| 100 ME:PersonalName | | $a Personal name | Glazier, Michael (Editor) |
| 245 Title | 04 | $a Title | The encyclopedia of American Catholic history / |
| | | $c Statement of responsibility | edited by Michael Glazier and Thomas J. Shelley. |
| 260 PublicationInfo | | $a Place of publication, dist. | Collegeville, Minn. : |
| | | $b Name of publisher, dist, etc | Liturgical Press, |
| | | $c Date of publication, dist, etc | c1997. |
| 300 Physical Desc | | $a Extent | xi, 1567 p. : |
| | | $b Other physical details | ill. ; |
| | | $c Dimensions | 29 cm. |
| 500 General Note | | $a General note | "A Michael Glazier book.". |
| 504 BibliogrphyNote | | $a Bibliography, etc. note | Includes bibliographical references and index. |
| 520 Summary | 1 | $a Summary, etc. note | "Utilizing newly opened archival information, the authors of this scholarly resource illuminate the American Catholic experience through 1,200 signed articles and 300 illustrations. Examined are issues, movements. demographics, and history and wars in relation to American Catholics. Issues often neglected by the church are treated: the growing voice of American Catholic women and the church's lack of involvement in the issue of slavery. Since so much immigration history is reflected in American Catholic history, many ethnic groups have their own entries. |
| 610 Subj:CorpName | 20 | $a Corporate name | Catholic Church |
| | | $z Geographic subdivision | United States |
| | | $x General subdivision | History |
| | | $x General subdivision | Encyclopedias. |
| 650 Subj:Topic | | $a Topical term | Catholic Church |
| | | $x General subdivision | History |
| | | $x General subdivision | Encyclopedias |
| | | $z Geographic subdivision | United States |
| 650 Subj:Topic | | $a Topical term | United States |
| | | $x General subdivision | Church history |
| | | $x General subdivision | Encyclopedias. |
| 651 Subj:Geog | 0 | $a Geographic name | United States |
| | | $x General subdivision | Church history |
| | | $x General subdivision | Encyclopedias. |
| 700 AE:PersName | 1 | $a Personal name | Glazier, Michael. |
| 700 AE:PersName | 1 | $a Personal name | Shelley, Thomas J. |
| 852 Holdings | | $a Location | SLTE |
| | | $p Barcode | 4317 |
| | | $9 Cost | $100.00 |
| | | $h Classification part | REF 282.73 |
| 856 ElectronicLocat | 4 | $3 Materials specified | Cover image |
| | | $u Uniform Resource Identifier | https://covers.openlibrary.org/b/id/1543858-M.jpg |