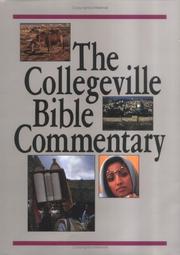 220.7
The Collegeville Bible commentary : based on the New American Bible with revised New Testament
Collegeville, Minn. : Liturgical Press, c1989.
1301 p., [32] p. of plates : col. ill. (maps) ; 26 cm.
The Collegeville Bible Commentary is a concise, yet comprehensive commentary that bridges the gap between superficial introductions and commentaries which are too technical for most readers. Written by Catholic scholars from a wide range of backgrounds, the commentary proceeds passage-by-passage through the Old Testament (including the Apocrypha). It is based on the New American Bible (NAB) translation. This commentary is well suited for use in assisting those who lead Bible studies, pastors, or individuals who wish to better understand Scripture.
Available
Hardback Book
1 copy available at St. Luke the Evangelist
| | |
| --- | --- |
| ISBN: | |
| LC Call No: | BS491.2 .C66 1989 |
| Dewey Class No: | 220.7/7 19 |
| Author: | |
| Title: | The Collegeville Bible commentary : based on the New American Bible with revised New Testament / general editors, Dianne Bergant, Robert J. Karris. |
| Publisher: | Collegeville, Minn. : Liturgical Press, c1989. |
| Physical: | 1301 p., [32] p. of plates : col. ill. (maps) ; 26 cm. |
| Notes: | Previously published in 36 separate booklets. |
| Summary: | The Collegeville Bible Commentary is a concise, yet comprehensive commentary that bridges the gap between superficial introductions and commentaries which are too technical for most readers. Written by Catholic scholars from a wide range of backgrounds, the commentary proceeds passage-by-passage through the Old Testament (including the Apocrypha). It is based on the New American Bible (NAB) translation. This commentary is well suited for use in assisting those who lead Bible studies, pastors, or individuals who wish to better understand Scripture. |
| Subject: | Bible--Commentaries. |
| Subject: | |
| AE:PersName: | |
| AE:PersName: | |
| Link: | |
| Field | Ind | Subfield | Data |
| --- | --- | --- | --- |
| 001 Control No | | | 410 |
| 005 LastTransaction | | | 20170216021920.0 |
| 008 Data Elements | | | 881117r1989 mnuaf 000 0 eng |
| 010 LCCN | | $a Record content licensor | 88027356 |
| 020 ISBN | | $a ISBN | 978-0-8146-1484-6 |
| 035 System Ctrl No | | $a System control number | 18871972 |
| 040 Cataloging Src | | $a Original cataloging agency | DLC |
| | | $c Transcribing agency | DLC |
| | | $d Modifying agency | CMJ |
| 050 LC Call No | 00 | $a Classification number | BS491.2 |
| | | $b Item number | .C66 1989 |
| 082 Dewey Class No | 00 | $a Classification number | 220.7/7 |
| | | $2 Edition number | 19 |
| 100 ME:PersonalName | | $a Personal name | Bergant, Dianne (Editor) |
| 245 Title | 04 | $a Title | The Collegeville Bible commentary : |
| | | $b Remainder of title | based on the New American Bible with revised New Testament / |
| | | $c Statement of responsibility | general editors, Dianne Bergant, Robert J. Karris. |
| 260 PublicationInfo | | $a Place of publication, dist. | Collegeville, Minn. : |
| | | $b Name of publisher, dist, etc | Liturgical Press, |
| | | $c Date of publication, dist, etc | c1989. |
| 300 Physical Desc | | $a Extent | 1301 p., [32] p. of plates : |
| | | $b Other physical details | col. ill. (maps) ; |
| | | $c Dimensions | 26 cm. |
| 500 General Note | | $a General note | Previously published in 36 separate booklets. |
| 520 Summary | | $a Summary, etc. note | The Collegeville Bible Commentary is a concise, yet comprehensive commentary that bridges the gap between superficial introductions and commentaries which are too technical for most readers. Written by Catholic scholars from a wide range of backgrounds, the commentary proceeds passage-by-passage through the Old Testament (including the Apocrypha). It is based on the New American Bible (NAB) translation. This commentary is well suited for use in assisting those who lead Bible studies, pastors, or individuals who wish to better understand Scripture. |
| 630 Subj:Title | 00 | $a Uniform title | Bible |
| | | $x General subdivision | Commentaries. |
| 650 Subj:Topic | | $a Topical term | Bible |
| | | $x General subdivision | Commentaries. |
| 700 AE:PersName | 10 | $a Personal name | Bergant, Dianne. |
| 700 AE:PersName | 10 | $a Personal name | Karris, Robert J. |
| 852 Holdings | | $a Location | SLTE |
| | | $h Classification part | 220.7 |
| | | $p Barcode | 434 |
| | | $9 Cost | $90.00 |
| 852 Holdings | | $a Location | SLTE |
| | | $h Classification part | REF 220.7 |
| | | $p Barcode | 4325 |
| | | $9 Cost | $90.00 |
| 856 ElectronicLocat | 4 | $3 Materials specified | Cover image |
| | | $u Uniform Resource Identifier | https://covers.openlibrary.org/b/id/611115-M.jpg |