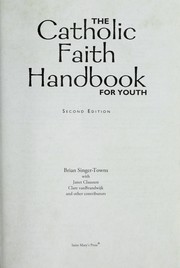 YOU 268.82
The Catholic faith handbook for youth
Winona, MN : Saint Mary's Press, c2008.
474 p. : col. ill. ; 24 cm.
This catechism for young people is an understandable and down-to-earth guide to all things Catholic. This book will help young people brush up on specific Catholic terms and concepts or learn them for the first time. It is organized to parallel the Catechism of the Catholic Church.
Available
Regular
1 copy available at St. Luke the Evangelist
| Field | Ind | Subfield | Data |
| --- | --- | --- | --- |
| 001 Control No | | | 4117 |
| 005 LastTransaction | | | 20170615044301.0 |
| 008 Data Elements | | | 071011s2008 mnua b 001 0 eng |
| 010 LCCN | | $a Record content licensor | 2007042479 |
| 020 ISBN | | $a ISBN | 978-0-88489-987-7 (pbk.) |
| 020 ISBN | | $a ISBN | 978-0-88489-988-4 (hardcover) |
| 035 System Ctrl No | | $a System control number | 15040569 |
| 040 Cataloging Src | | $a Original cataloging agency | DLC |
| | | $c Transcribing agency | DLC |
| | | $d Modifying agency | DLC |
| 050 LC Call No | 00 | $a Classification number | BX1961 |
| | | $b Item number | .S56 2008 |
| 082 Dewey Class No | 00 | $a Classification number | 268/.82 |
| | | $2 Edition number | 22 |
| 100 ME:PersonalName | 1 | $a Personal name | Singer-Towns, Brian. |
| 245 Title | 14 | $a Title | The Catholic faith handbook for youth / |
| | | $c Statement of responsibility | Brian Singer-Towns with Janet Claussen, Clare vanBrandwijk, and other contributors. |
| 250 Edition | | $a Edition statement | 2nd ed. |
| 260 PublicationInfo | | $a Place of publication, dist. | Winona, MN : |
| | | $b Name of publisher, dist, etc | Saint Mary's Press, |
| | | $c Date of publication, dist, etc | c2008. |
| 300 Physical Desc | | $a Extent | 474 p. : |
| | | $b Other physical details | col. ill. ; |
| | | $c Dimensions | 24 cm. |
| 504 BibliogrphyNote | | $a Bibliography, etc. note | Includes bibliographical references (p. 470-472) and indexes. |
| 520 Summary | | $a Summary, etc. note | This catechism for young people is an understandable and down-to-earth guide to all things Catholic. This book will help young people brush up on specific Catholic terms and concepts or learn them for the first time. It is organized to parallel the Catechism of the Catholic Church. |
| 610 Subj:CorpName | 20 | $a Corporate name | Catholic Church |
| | | $v Form subdivision | Catechisms |
| | | $x General subdivision | English. |
| 650 Subj:Topic | 0 | $a Topical term | Catechisms, English. |
| 650 Subj:Topic | 0 | $a Topical term | Christian education |
| | | $v Form subdivision | Textbooks for youth |
| | | $x General subdivision | Textbooks for youth |
| | | $x General subdivision | Catholic |
| 650 Subj:Topic | | $a Topical term | Catholic Church |
| | | $x General subdivision | Catechism. |
| 700 AE:PersName | 1 | $a Personal name | Claussen, Janet. |
| 700 AE:PersName | 1 | $a Personal name | VanBrandwijk, Clare. |
| 852 Holdings | | $a Location | SLTE |
| | | $h Classification part | YOU 268.82 |
| | | $p Barcode | 4362 |
| | | $9 Cost | $30.00 |
| 856 ElectronicLocat | 41 | $3 Materials specified | Table of contents only |
| | | $u Uniform Resource Identifier | http://www.loc.gov/catdir/toc/ecip082/2007042479.html |
| 856 ElectronicLocat | 4 | $3 Materials specified | Cover image |
| | | $u Uniform Resource Identifier | https://covers.openlibrary.org/b/id/7084393-M.jpg |