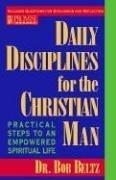 248.842
Daily disciplines for the Christian man : practical steps to an empowered spiritual life
Colorado Springs, Colo. : NavPress, c1993.
155 p. : ill. ; 21 cm.
In Daily Disciplines for the Christian Man, Dr. Bob Beltz gives us seven clear and simple steps that will enable us to live one day at a time with Christ, led and empowered by the Holy Spirit.
Available
Regular
1 copy available at St. Luke the Evangelist
| Field | Ind | Subfield | Data |
| --- | --- | --- | --- |
| 001 Control No | | | 4127 |
| 005 LastTransaction | | | 20170629035539.0 |
| 008 Data Elements | | | 931021s1993 coua 000 0 eng |
| 010 LCCN | | $a Record content licensor | 93086110 |
| 020 ISBN | | $a ISBN | 978-0-89109-765-5 |
| 035 System Ctrl No | | $9 | (DLC) 93086110 |
| 035 System Ctrl No | | $a System control number | 3945642 |
| 040 Cataloging Src | | $a Original cataloging agency | DLC |
| | | $c Transcribing agency | DLC |
| | | $d Modifying agency | DLC |
| 050 LC Call No | 00 | $a Classification number | BV4843 |
| | | $b Item number | .B45 1993 |
| 082 Dewey Class No | 00 | $a Classification number | 248.8/42 |
| | | $2 Edition number | 20 |
| 100 ME:PersonalName | 1 | $a Personal name | Beltz, Bob. |
| 245 Title | 10 | $a Title | Daily disciplines for the Christian man : |
| | | $b Remainder of title | practical steps to an empowered spiritual life / |
| | | $c Statement of responsibility | Bob Beltz. |
| 260 PublicationInfo | | $a Place of publication, dist. | Colorado Springs, Colo. : |
| | | $b Name of publisher, dist, etc | NavPress, |
| | | $c Date of publication, dist, etc | c1993. |
| 300 Physical Desc | | $a Extent | 155 p. : |
| | | $b Other physical details | ill. ; |
| | | $c Dimensions | 21 cm. |
| 520 Summary | | $a Summary, etc. note | In Daily Disciplines for the Christian Man, Dr. Bob Beltz gives us seven clear and simple steps that will enable us to live one day at a time with Christ, led and empowered by the Holy Spirit. |
| 650 Subj:Topic | 0 | $a Topical term | Christian men |
| | | $x General subdivision | Religious life. |
| 852 Holdings | | $a Location | SLTE |
| | | $p Barcode | 4374 |
| | | $9 Cost | $15.00 |
| | | $h Classification part | 248.842 |
| 856 ElectronicLocat | 4 | $3 Materials specified | Cover image |
| | | $u Uniform Resource Identifier | https://covers.openlibrary.org/b/id/688584-M.jpg |