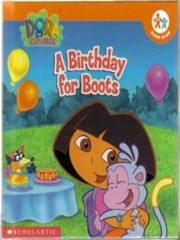 E Hoo
A birthday for Boots
New York : Scholastic, [2003]
[34] p. : col. ill. ; 20 cm.
Dora and friends start out with ten goody bags as they prepare a party for Boots, but the bags disappear one by one as Swiper hides them. Includes English and Spanish for the numbers from one through ten and provides an opportunity for readers to find the hidden bags.
Available
Hardback Book
1 copy available at St. Luke the Evangelist
| | |
| --- | --- |
| ISBN: | |
| LC Call No: | MLCS 2006/45387 |
| Author: | |
| Title: | A birthday for Boots / by Susan Hood ; illustrated by Susan Hall. |
| Publisher: | New York : Scholastic, [2003] |
| Physical: | [34] p. : col. ill. ; 20 cm. |
| Series: | |
| Notes: | "Nick Jr. Book Club"--P. [1] of cover. |
| Notes: | "This edition is available for distribution only through the direct-to-home market"--P. [4] of cover. |
| Summary: | Dora and friends start out with ten goody bags as they prepare a party for Boots, but the bags disappear one by one as Swiper hides them. Includes English and Spanish for the numbers from one through ten and provides an opportunity for readers to find the hidden bags. |
| Subject: | Dora the Explorer (Fictitious character)--Juvenile fiction.--Juvenile Fiction |
| Subject: | |
| Subject: | |
| Subject: | |
| Subject: | |
| Subject: | |
| Subject: | |
| Subject: | |
| AE:PersName: | |
| AE:CorpName: | Nick Jr. Book Club. |
| AE:UnifTitle: | |
| Link: | |
| Field | Ind | Subfield | Data |
| --- | --- | --- | --- |
| 001 Control No | | | 4226 |
| 005 LastTransaction | | | 20170712054734.0 |
| 008 Data Elements | | | 061026s2003 nyua j 000 1 eng d |
| 010 LCCN | | $a Record content licensor | 2006299056 |
| 020 ISBN | | $a ISBN | 978-0-7172-6624-1 |
| 035 System Ctrl No | | $a System control number | (OCoLC)ocm54355633 |
| 035 System Ctrl No | | $a System control number | 14611823 |
| 040 Cataloging Src | | $a Original cataloging agency | RRT |
| | | $c Transcribing agency | RRT |
| | | $d Modifying agency | OCLCQ |
| | | $d Modifying agency | IHI |
| | | $d Modifying agency | OCLCQ |
| | | $d Modifying agency | DLC |
| 041 Language Code | 0 | $a Text/soundtrack/separate title | eng |
| | | $a Text/soundtrack/separate title | spa |
| 050 LC Call No | 00 | $a Classification number | MLCS 2006/45387 |
| 100 ME:PersonalName | 1 | $a Personal name | Hood, Susan, |
| | | $d Dates associated with a name | 1954- |
| 245 Title | 12 | $a Title | A birthday for Boots / |
| | | $c Statement of responsibility | by Susan Hood ; illustrated by Susan Hall. |
| 260 PublicationInfo | | $a Place of publication, dist. | New York : |
| | | $b Name of publisher, dist, etc | Scholastic, |
| | | $c Date of publication, dist, etc | [2003] |
| 300 Physical Desc | | $a Extent | [34] p. : |
| | | $b Other physical details | col. ill. ; |
| | | $c Dimensions | 20 cm. |
| 440 Series Title | 0 | $a Title | Dora the Explorer |
| 500 General Note | | $a General note | "Nick Jr. Book Club"--P. [1] of cover. |
| 500 General Note | | $a General note | "This edition is available for distribution only through the direct-to-home market"--P. [4] of cover. |
| 520 Summary | | $a Summary, etc. note | Dora and friends start out with ten goody bags as they prepare a party for Boots, but the bags disappear one by one as Swiper hides them. Includes English and Spanish for the numbers from one through ten and provides an opportunity for readers to find the hidden bags. |
| 650 Subj:Topic | 0 | $a Topical term | Dora the Explorer (Fictitious character) |
| | | $v Form subdivision | Juvenile fiction. |
| | | $x General subdivision | Juvenile Fiction |
| 650 Subj:Topic | 0 | $a Topical term | Birthday parties |
| | | $v Form subdivision | Juvenile fiction. |
| | | $x General subdivision | Juvenile Fiction |
| 650 Subj:Topic | 0 | $a Topical term | Counting |
| | | $v Form subdivision | Juvenile fiction. |
| 650 Subj:Topic | 1 | $a Topical term | Stories in rhyme. |
| | | $x General subdivision | Juvenile Fiction |
| 650 Subj:Topic | 1 | $a Topical term | Dora the Explorer (Fictitious character) |
| | | $v Form subdivision | Fiction. |
| 650 Subj:Topic | 1 | $a Topical term | Birthdays |
| | | $v Form subdivision | Fiction. |
| 650 Subj:Topic | 1 | $a Topical term | Parties |
| | | $v Form subdivision | Fiction. |
| 650 Subj:Topic | 1 | $a Topical term | Counting |
| | | $v Form subdivision | Fiction. |
| 700 AE:PersName | 1 | $a Personal name | Hall, Susan |
| | | $q Fuller form of name | (Susan G.), |
| | | $e Relator | ill. |
| 710 AE:CorpName | 2 | $a Corporate name | Nick Jr. Book Club. |
| 730 AE:UnifTitle | 0 | $a Uniform title heading | Dora the Explorer (Television program) |
| 852 Holdings | | $a Location | SLTE |
| | | $h Classification part | E Hoo |
| | | $p Barcode | 4493 |
| | | $9 Cost | $10.00 |
| 856 ElectronicLocat | 4 | $3 Materials specified | Cover image |
| | | $u Uniform Resource Identifier | https://covers.openlibrary.org/b/id/7441748-M.jpg |