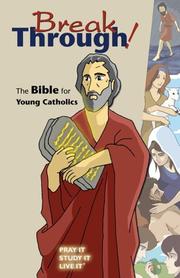 YOU 220.52
Breakthrough! : the Bible for young Catholics : Good News Translation
Winona, MN : Saint Mary's Press, c2006.
xx, 1908 p., C40 p. of plates : ill. (some col.), col. maps ; 22 cm.
This Bible was created for young people leaving childhood and entering adolescence. Its ten special features make this Bible easier for young people to read and understand. They will learn about the great people of the Bible, and will see how God has been breaking through in human history.
Available
Regular
1 copy available at St. Luke the Evangelist
| | |
| --- | --- |
| ISBN: | |
| ISBN: | |
| ISBN: | |
| ISBN: | |
| LC Call No: | BS195 .T63 2006 |
| Dewey Class No: | 220.5/20824 22 |
| Author: | |
| ME:UniformTitle: | |
| Title: | Breakthrough! : the Bible for young Catholics : Good News Translation / Saint Mary's Press (Publisher). |
| VaryingTitle: | |
| VaryingTitle: | |
| Edition: | Catholic ed. |
| Publisher: | Winona, MN : Saint Mary's Press, c2006. |
| Physical: | xx, 1908 p., C40 p. of plates : ill. (some col.), col. maps ; 22 cm. |
| Notes: | Includes indexes. |
| Summary: | This Bible was created for young people leaving childhood and entering adolescence. Its ten special features make this Bible easier for young people to read and understand. They will learn about the great people of the Bible, and will see how God has been breaking through in human history. |
| Subject: | |
| AE:CorpName: | Saint Mary's Press. |
| Link: | |
| Link: | |
| Field | Ind | Subfield | Data |
| --- | --- | --- | --- |
| 001 Control No | | | 4246 |
| 005 LastTransaction | | | 20170804075156.0 |
| 008 Data Elements | | | 050901s2006 mnuabf j 001 0 eng |
| 010 LCCN | | $a Record content licensor | 2005025578 |
| 020 ISBN | | $a ISBN | 978-0-88489-884-9 (hdbk.) |
| 020 ISBN | | $a ISBN | 978-0-88489-862-7 (pbk.) |
| 020 ISBN | | $a ISBN | 978-0-88489-884-9 |
| 020 ISBN | | $a ISBN | 978-0-88489-862-7 |
| 035 System Ctrl No | | $a System control number | (OCoLC)ocm61463642 |
| 035 System Ctrl No | | $a System control number | 14095058 |
| 040 Cataloging Src | | $a Original cataloging agency | DLC |
| | | $c Transcribing agency | DLC |
| | | $d Modifying agency | C#P |
| | | $d Modifying agency | BAKER |
| | | $d Modifying agency | DLC |
| 042 Authentication | | $a Authentication code | pcc |
| 050 LC Call No | 00 | $a Classification number | BS195 |
| | | $b Item number | .T63 2006 |
| 082 Dewey Class No | 00 | $a Classification number | 220.5/20824 |
| | | $2 Edition number | 22 |
| 100 ME:PersonalName | | $a Personal name | Saint Mary's Press (Publisher) |
| 130 ME:UniformTitle | 0 | $a Unform title | Bible. |
| | | $l Language of a work | English. |
| | | $s Version | Good News Translation. |
| | | $f Date of a work | 2006. |
| 245 Title | 10 | $a Title | Breakthrough! : |
| | | $b Remainder of title | the Bible for young Catholics : Good News Translation / |
| | | $c Statement of responsibility | Saint Mary's Press (Publisher). |
| 246 VaryingTitle | 3 | $a Title proper/short title | Break through! |
| 246 VaryingTitle | 30 | $a Title proper/short title | Bible for young Catholics |
| 250 Edition | | $a Edition statement | Catholic ed. |
| 260 PublicationInfo | | $a Place of publication, dist. | Winona, MN : |
| | | $b Name of publisher, dist, etc | Saint Mary's Press, |
| | | $c Date of publication, dist, etc | c2006. |
| 300 Physical Desc | | $a Extent | xx, 1908 p., C40 p. of plates : |
| | | $b Other physical details | ill. (some col.), col. maps ; |
| | | $c Dimensions | 22 cm. |
| 500 General Note | | $a General note | Includes indexes. |
| 520 Summary | | $a Summary, etc. note | This Bible was created for young people leaving childhood and entering adolescence. Its ten special features make this Bible easier for young people to read and understand. They will learn about the great people of the Bible, and will see how God has been breaking through in human history. |
| 650 Subj:Topic | | $a Topical term | Bible |
| | | $x General subdivision | Juvenile Literature. |
| 710 AE:CorpName | 2 | $a Corporate name | Saint Mary's Press. |
| 852 Holdings | | $a Location | SLTE |
| | | $p Barcode | 4512 |
| | | $9 Cost | $30.00 |
| | | $h Classification part | YOU 220.52 |
| 856 ElectronicLocat | 41 | $3 Materials specified | Table of contents |
| | | $u Uniform Resource Identifier | http://www.loc.gov/catdir/toc/ecip0518/2005025578.html |
| 856 ElectronicLocat | 4 | $3 Materials specified | Cover image |
| | | $u Uniform Resource Identifier | https://covers.openlibrary.org/b/id/683028-M.jpg |